We're Hiring! Join the DAVIS team!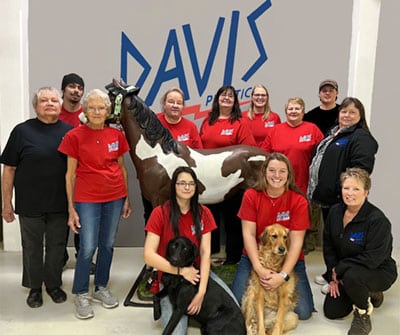 The Production Machine Operator will safely control various machines and equipment involved in production.
Supervisory Responsibilities:
Duties/Responsibilities:
Operates production machinery in accordance with prints and specifications. Assigned machines may include lathes, grinders, mills, and similar equipment.
Produces the required quantity of parts within established specifications and tolerances.
Measures finished parts with precision tools, ensuring compliance with function, quality, and cosmetic specifications.
Maintains logs and records of units produced including a record of errors resulting in rejected or discarded pieces.
Inspects equipment prior to use to ensure proper setup and alignment; performs basic and routine adjustments and maintenance.
Maintains a clean, safe, and orderly work area.
Performs other related duties as assigned.
Required Skills/Abilities:
Ability to follow directions and work well in a team.
Ability to interpret and translate engineering designs and documentation.
Thorough understanding of or the ability to quickly learn production equipment.
Strong analytical and problem-solving skills.
Understanding of and the ability to abide by applicable OSHA and environmental regulations.
Proficient with Microsoft Office Suite or related software.
Education and Experience:
High school diploma or equivalent required.
Associate's degree OR completion of related apprenticeship program preferred.
At least one year of related experience required.
Completion of on-the-job training may be substituted for educational requirements.
Physical Requirements:
Prolonged periods working on feet, using tools, and performing repetitive actions that entail frequent bending and stooping.
Must be able to lift up to 50 pounds at a time.
Visual acuity to read instructions, operate machines, and inspect parts produced.
Job Type: Full-time
Salary: $15.00 - $18.00 per hour
Benefits:
401(k)
401(k) matching
Dental insurance
Flexible schedule
Health insurance
Paid time off
Retirement plan
Vision insurance
Schedule:
10 hour shift
12 hour shift
8 hour shift
Monday to Friday
Ability to commute/relocate:
Brandon, WI 53919: Reliably commute or planning to relocate before starting work (Required)
Experience:
Manufacturing: 1 year (Preferred)
Work Location: In person