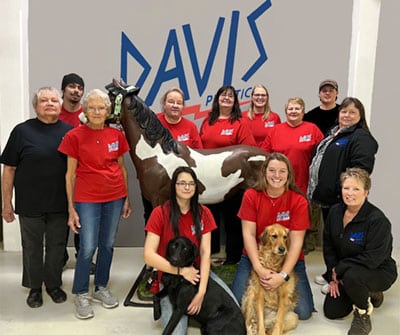 In 1987, Brian Davis started DAVIS Manufacturing, Inc in a pole building just outside of Ripon, Wisconsin. Not long after, he moved his business to its current location in Brandon, Wisconsin. After 34 years in business, Brian has sold his business to Dean Birschbach, owner of Agromatic, Inc. The business will now be known as Davis Plastic LLC. We are excited to announce that the same amazing DAVIS products will still be made and will be available to you, our customers. Please bear with us as we transition over to Davis Plastic LLC. During our transition, you as our customers will see no difference in customer service of quality of our product. the only difference will be the company name on your invoices. We thank you all for your continued support!!
The DAVIS Mission
It is our mission to stand tall in a crowded field of competitors.
Did you know that every one of the products in the DAVIS line has not only been designed here in the USA, but are also 100% made in the USA? DAVIS employees take hometown pride in the hand worked craftsmanship that is displayed in every product they produce. Quality, durability, easy maintenance and maximum protection are all natural American made benefits you receive in every DAVIS product.
Our passion defines who we are and customer satisfaction is our number one priority. DAVIS offers the BEST IN THE INDUSTRY guarantee. If for any reason our products have minor hardware issues, no need for simple household tools, repair parts or how to fix videos, simply give us a call and lets discuss the problem. Who keeps receipts for 90 days or has time to fill out warranty cards? DAVIS customers have no need to stress; DAVIS believes in and stands behind their product. So when you want satisfaction guaranteed and on time delivery, please call and talk to one of our DAVIS friendly customer service reps - they will make things right.